Having a Rough Winter? Here it is … From Space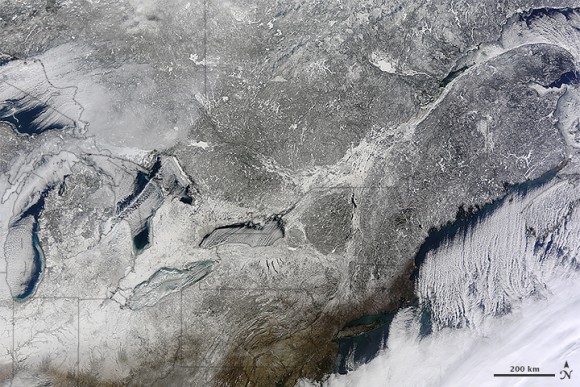 The northeastern US and southeastern Canada, as seen from space on January 13, 2015. Image is from the Moderate Resolution Imaging Spectroradiometer (MODIS) on NASA's Terra satellite. Credit: Jeff Schmaltz, LANCE/EOSDIS Rapid Response.
Yes, its been a snowy, icy winter in parts of the US, Canada and Europe and these satellite images look about as miserable as it's felt for some of us. And no, those aren't icicles hanging off the coast of Maine and Nova Scotia; those are called 'cloud streets,' which are long parallel bands of cumulus clouds that form when cold air blows over warmer waters (like the ocean) and a warmer air layer (temperature inversion) rests over the top of both.
But don't let the recent cold weather and snow fool you. The Earth as a whole continues to warm, and NASA and NOAA announced today that their analysis puts 2014 as Earth's warmest year since 1880. 2014 was the 38th straight year with above average global annual temperatures, and December 2014 was the hottest December on record. Additionally, 6 of the 12 months last year set heat records. Even though you might feel cold right now, the last time there was —> Read More Here