Here's Ceres Compared to All the Other Asteroids We've Visited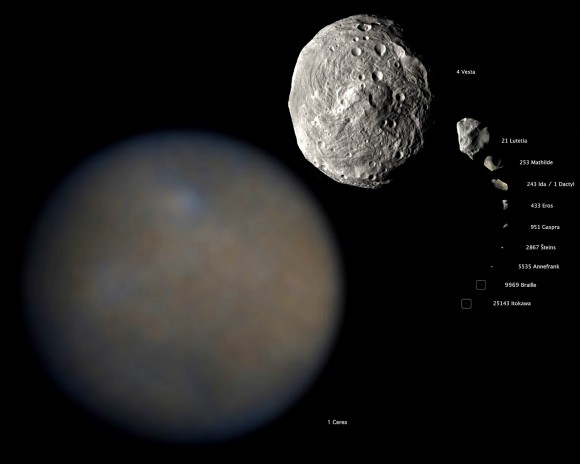 Ceres compared to asteroids visited to date, including Vesta, Dawn's mapping target in 2011. Image by NASA/ESA/JAXA. Compiled by Paul Schenck.
When the Dawn mission was in its planning stages, Ceres was considered an asteroid. But in 2006, a year before the mission launched, the International Astronomical Union formed a new class of solar system objects known as dwarf planets, and since by definition a dwarf planet is spherical and travels in an orbit around the Sun, Ceres fit that definition perfectly.
But since it's located in the Asteroid Belt, we still tend to think of Ceres as an asteroid. So, how does Ceres compare to other asteroids? (…)
Read the rest of Here's Ceres Compared to All the Other Asteroids We've Visited (546 words)
---
© nancy for Universe Today, 2015. |
Permalink |
No comment |

Post tags: Asteroids, ceres, dwarf planets

Feed enhanced by Better Feed from Ozh