Here's The First 3-D Part Printed In Space. Where Will That Take Us Next?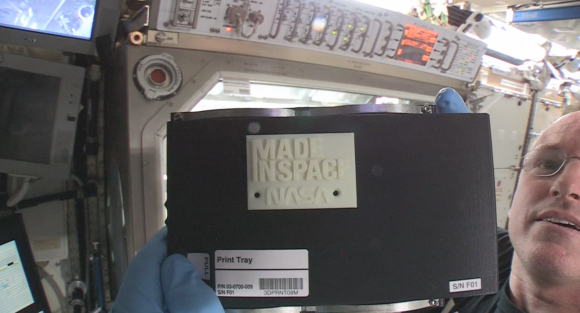 NASA astronaut Butch Wilmore (Expedition 42 commander on the International Space Station) holds the first 3-D printed part made in space, which was created on Nov. 25, 2014. Credit: NASA
Here's the 22nd-century version of breaking the surly bonds of Earth: NASA and private company Made In Space have just collaborated on the first 3-D printed part in space, ever.
The milestone yesterday (Nov. 25) is a baby step towards off-Earth manufacturing, but the implications are huge. If these testbeds prove effective enough, eventually we can think of creating these parts in other destinations such as the Moon, or an asteroid, or even Mars.
(…)
Read the rest of Here's The First 3-D Part Printed In Space. Where Will That Take Us Next? (333 words)
---
© Elizabeth Howell for Universe Today, 2014. |
Permalink |
No comment |

Post tags: 3-d printing, additive manufacturing, butch wilmore, Expedition 42, expedition 43, made in space, samantha cristoforetti

Feed enhanced by Better Feed from Ozh