Here's Your Sign: Are You an Ophiuchian?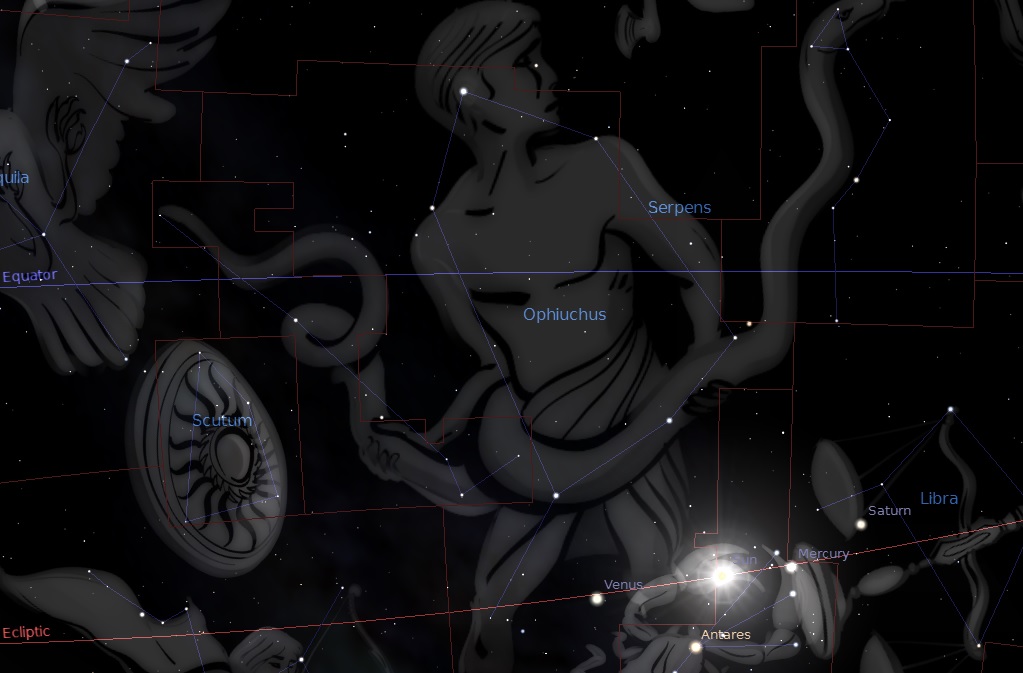 The 2014 path (lower right) of the Sun across the constellation Ophiuchus. Credit: Stellarium.
It happens to all lovers of astronomy sooner or later.
I once had a friend who was excited about an upcoming conjunction of Saturn and Venus. They were passing closer than the apparent diameter of the Full Moon in the dawn sky, and you could fit 'em both in the same telescopic field of view. I invited said friend to stop by at 5 AM the next morning to check this out. I was excited to see this conjunction as well, but not for the same reasons.
Said friend was into astrology, and I'm sure that the conjunction held a deep significance in their world view. Sure, I could have easily told them that 'astrology is bunk,' and the skies care not for our terrestrial woes… or I could carefully help guide this 'at risk friend' towards the true wonders of the cosmos if they were willing to listen.
We bring this up because this weekend, the Sun enters the constellation Ophiuchus, one of 13 modern constellations that it can appear in from our Earthly vantage point. (…)
Read the rest of Here's Your Sign: Are —> Read More Here