How 3D Printing Could End The Deadly Shortage Of Donor Organs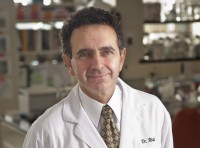 Three-dimensional printing has been used to make everything from pizza to prostheses, and now researchers are working on using the emerging technology to fabricate hearts, kidneys, and other vital human organs.
That would be very big news, as the number of people who desperately need an organ transplant far outstrips the number of donor organs available. On average, about 21 Americans die every day because a needed organ was unavailable.
What exactly is the promise of 3D printing organs and tissues, or "
For answers to these and other questions, HuffPost Science reached out to Dr. Anthony Atala (right), director of the Wake Forest Institute for Regenerative Medicine and a world-renowned expert in the field, to find out.
See below for a lightly edited version of the Q & A.
Can 3D printing end the shortage of organs?
3D printing is not magic. It is simply a way to scale up the current processes we use to engineer organs in the laboratory. Our team has successfully engineered bladders, cartilage, skin, urine tubes and vaginas that have been implanted in patients. Our goal is produce organ structures such as these with 3D printing to make the —> Read More Here