How Accurate Are Weather Forecasts?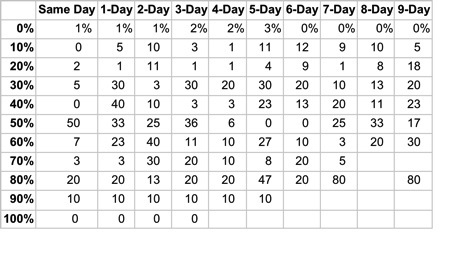 Co-written with Naomi B. Robbins
In light of the great Blizzard of 2015 that wasn't, we might look at how accurate are weather forecasts and especially long-term forecasts.
Naomi B. Robbins of NBR Graphs, with whom I co-wrote this post, and I collected predicted highs and percent chance of rain in the long-term weather forecasts from mid-August through December. Special credit to Naomi for all the data visualizations in this post.
Ultimately, the forecasts are quite accurate. Here are some findings….
Comparing predicted highs to actuals, the same day forecast averages ~2 degrees off, the 1-4 day forecasts average 2.5 – 3 degrees off, and the 9-day averages nearly 6 degrees off. (We used absolute value so +2 one day and -2 the next don't cancel each other out.) Notably, even the 9-day forecast is more accurate than comparing actuals to the average highs for NYC, which average 6.2 degrees off.
The same day forecast has been extremely accurate as to whether or not it will rain. For the 134 days we tracked, it rained at least .1″ (our threshold for rain) 30 times (22% of the time). When same day predicted 0% (78 times), it rained just once. Other same day predictions —> Read More Here