How Do Planets Form? Semarkona Meteorite Shows Some Clues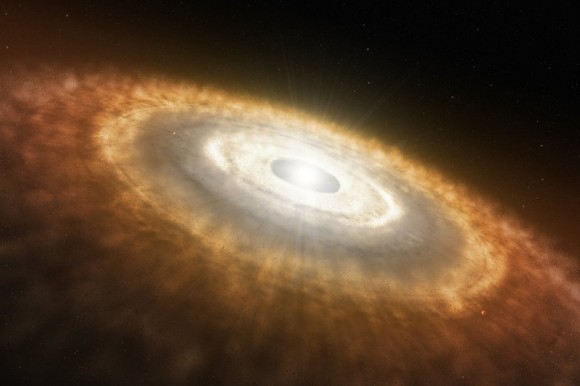 Artist's impression of a baby star still surrounded by a protoplanetary disc in which planets are forming. Credit: ESO
It may seem all but impossible to determine how the Solar System formed, given that it happened roughly 4.5 billion years ago. Luckily, much of the debris that was left over from the formation process is still available today for study, circling our Solar System in the form of rocks and debris that sometimes make their way to Earth.
Among the most useful pieces of debris are the oldest and least altered type of meteorites, which are known as chondrites. They are built mostly of small stony grains, called chondrules, that are barely a millimeter in diameter.
And now, scientists are being provided with important clues as to how the early Solar System evolved, thanks to new research based on the the most accurate laboratory measurements ever made of the magnetic fields trapped within these tiny grains.
(…)
Read the rest of How Do Planets Form? Semarkona Meteorite Shows Some Clues (657 words)
---
© mwill for Universe Today, 2014. |
Permalink |
No comment |

Post tags: Chondrites, chondrules, Early Solar System Formation, magnetic fields, <a target="_blank" href="http://www.universetoday.com/tag/meteorites/" —> Read More Here