How to Snap Out of a Funk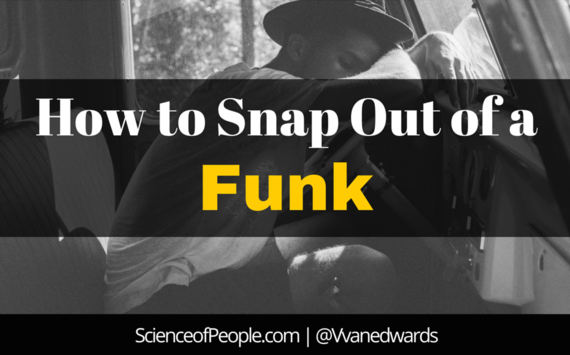 Have you ever been in a ragingly dangerous bad mood?
A slumpy, frumpy, dumpy, funk?
This ain't the good kind of funk that gives you a sick beat and great dance moves. Nope, I'm talking about the burnt-out, stressful funk that hits even the best of us on low days.
You know when you just can't snap out of it?
A few weekends ago, I came home from a coffee meeting in a poopy mood. I just felt blah. I tried reading, making myself a bowl of delicious cereal and watching some Netflix-nothing, nada, zilch. I couldn't shake it.
It got me thinking. Why do we have moods? I did some digging and discovered some fascinating science on how our brain and body is tied to our emotions. Specifically: There is a science behind your moods.
I found this incredibly helpful, because if we understand our moods we can know where they come from and how to fix them.
You're not crazy! Feel like your moods are out of control? There is a chemical explanation.
You're not alone. The way we feel moods and process emotions is universal, and we can study it to find patterns.
You are in control. It might feel like our emotions run wild inside of our brain and body, but when approached in a specific way they can be controlled.
Happy vs. Unhappy
Before I get into the science of moods, I do have to say that 'bad' moods aren't 'bad.' They might not be pleasant, but we can understand a lot about the Science of Happiness from our unhappiness. In the words of Dolly Parton: "If you want the rainbow, you gotta put up with the rain."
From our research on the psychology of happiness, we know that people —> Read More