I Know What Girls Like: Science, Technology, Engineering and Math!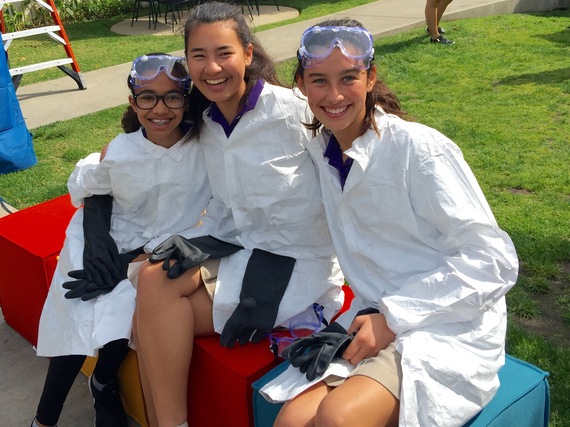 Myth: Girls Don't like Math and Science.
Busted: Statistics show that 74% of girls show at least as much interest as boys in these disciplines. In fact, high school girls surpass the percentage of boys interested in Algebra II and Calculus. According to the American Association of University Women, boys and girls perform equally well in math and science. High school girls actually earn more math and science credits than boys and the girls' GPAs aggregated across all math and science classes are higher than boys, even if boys are scoring higher on the standardized tests. Generation STEM (What Girls Say about Science, Technology, Engineering and Math, A Report from the Girl Scout Research Institute, 2012.)
But, Wait…
So why, despite the fact that women are the majority of college graduates today (57%) and hold the majority of master's level degrees (60%), and represent almost half America's workforce (48%), are women still underrepresented in STEM fields? For example, women account for only 20% of the bachelor's degrees in engineering, computer science, and physics and only 25% of STEM positions are held by women.
Why are we losing women from the growing STEM jobs that are increasing at 3 times the rate of other jobs in the American economy and so needed for America to keep competitive with other nations in creating a better future?

Leading the Way for Women
Elizabeth English, Head of School at The Archer School for Girls (grades 6-12 in Los Angeles) spoke out at a taping of the new STEM TV show FabLab on the school's beautiful campus filled with enthusiastic young women (39% of the girls are students of color, coming from 86 zip codes around Los Angeles) taking part in filmed experiments. "We know that STEM —> Read More