If You Can Find Orion, You Can Find Comet Lovejoy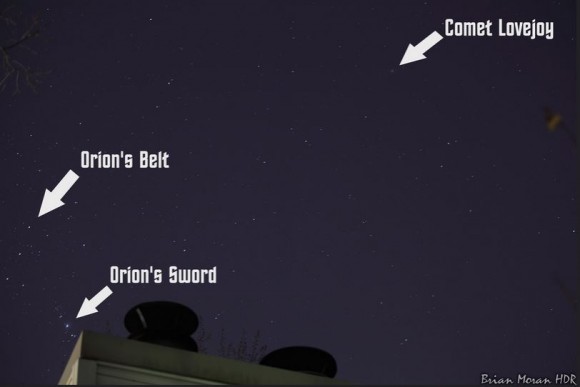 The constellation Orion and Comet Lovejoy (C/2014 Q2), highlighted for easy viewing, as seen from Millersville, Maryland on January 7, 2015. Credit and copyright: Brian Moran.
Comet Lovejoy (2014 Q2) is now visible in the night sky, and while you'll need binoculars or a low-power telescope to see it best, the perfect window of opportunity to see it for yourself is starting now! We've heard from some readers that they've had some trouble spying it, but photographer Brian Moran has snapped the perfect picture to show you EXACTLY where to look for the comet. All you need to do is look for the easy-to-find constellation of Orion, and swing your eyes to the right (about 20 degrees) and up slightly up.
Brian said he was having trouble finding Lovejoy, but perhaps he may have been because I was looking a little too close to Orion. "Orion is a great frame of reference, but all of the photos I saw online made it seem like it was closer to Orion than it actually is," he said.
(…)
Read the rest of If You Can Find Orion, You Can Find Comet Lovejoy (591 words)
---
© nancy for Universe Today, 2015. —> Read More Here