I'm Leaving Behind Friends and Family for a Year on NASA's Simulated Mars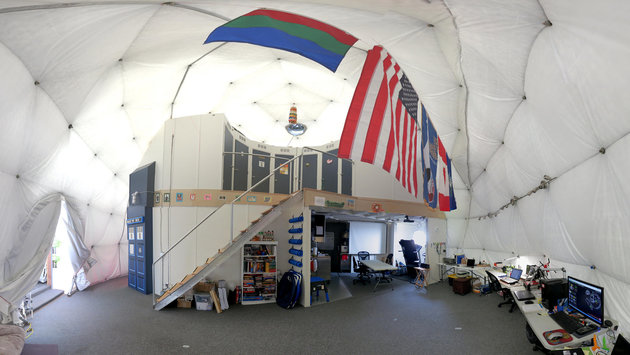 The first step to a successful
As they have been all week, the camera and radio crews were gamely keeping pace behind us. For a long-time journalist, and near-as-long-a-time scientist, the sudden shift in perspective is somewhat dizzying. I should be on the other side of the mic, of the camera. Of the world, really. In a lab somewhere, or in a hospital. My white coat and leather doctor bag are almost within reach, packed next to hiking boots and trekking poles.
Over the last week, I've swapped air conditioned corridors for lectures on spacesuit maintenance and nine-mile geology hikes through the wilderness. On one of these treks we learned about the different types of lava in the area around the dome, including the sharp black type we were — very slowly — driving over just then. Aa is the name of the rock. "AAAAAAAHHH!" is the sound that you make when trying to traverse it.
The bulk of the van swayed sharply to the left. Right on cue, the crew said, "AAAAHHHHH!" and began laughing. After a few moments, the quiet descended again, and stuck. The rubber of the tires ground painfully against the iron-laden ground. We surged forward.
What do you say during your last few minutes "on Earth"? The door of the dome will close. When it does, until August 28, 2016, we'll lay down our iPhones. We'll pick up telescopes and tweezers, try to conserve power and water, rehydrate food. Between making the science happen, cleaning house (dome) and shooting outreach videos, we'll all have more to do than can be done in a year.
Yet, I somehow fear not being able to fill all those minutes of time.
This is, of course, thoroughly irrational. I've seen our schedule. It's enough to give —> Read More