Infographic: The Rosetta Comet-Probing Mission Cost As Much As Four Jetliners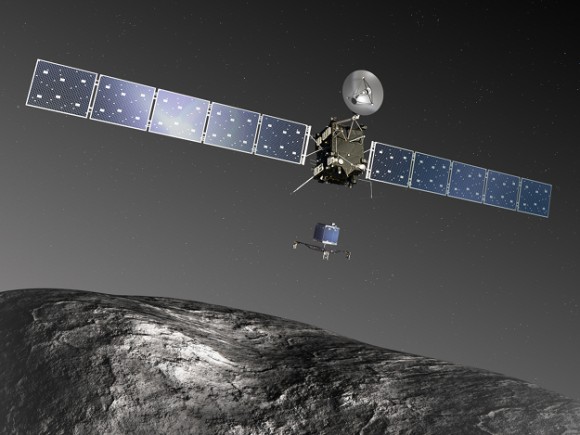 Artist's impression (not to scale) of the Rosetta orbiter deploying the Philae lander to comet 67P/Churyumov–Gerasimenko. Credit: ESA–C. Carreau/ATG medialab.
What price do you put on scientific discovery? From the way Twitter lit up last week when the Philae spacecraft touched down on Comet 67P/Churyumov–Gerasimenko — it was a top-trending topic for a while — it appears there's a lot of discussion going on about the Rosetta mission and its value to humanity.
A recent infographic (which you can see below) points out that the Rosetta mission, which included the now-hibernating Philae lander, cost as much as about four Airbus 380 jetliners. Is US$1.75 billion (€1.4 billion) a bargain for letting us explore further into the universe, or could the money have been better-served elsewhere?
(…)
Read the rest of Infographic: The Rosetta Comet-Probing Mission Cost As Much As Four Jetliners (341 words)
---
© Elizabeth Howell for Universe Today, 2014. |
Permalink |
No comment |

Post tags: philae

Feed enhanced by Better Feed from Ozh