Inside Wine: Beauty in the Bottle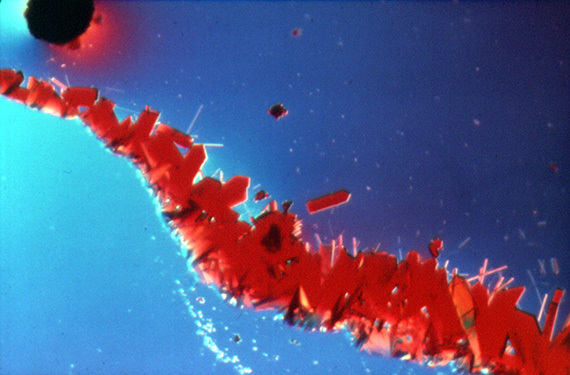 Do you like wine yet are intimidated by all the wine geek speak to talk about it?
After decades of enjoying, learning about, and photographing wine, I still lack the words of the wine aficionados. A few weeks ago, there was a tasting with a friend who described the wine as tasting red. I agreed. Why not let your imagination loose to help you get inside wine and let go of worrying about how to talk about it? Have fun with it. After all where do all those weird words come from if not from someone's very vivid imagination?
Once upon a time I was a medical scientist who researched leukemia cells with the microscope to develop ways to improve diagnosis and follow treatment. Yet seeing a surprisingly beautiful exhibit of chemicals of the brain photographed through a microscope, I soon began photographing whatever I could get my hands on such as flowers, herbs, vitamins, minerals, and hormones. I first shared this microscopic photography in slideshows for children with cancer – to show them the beautiful stuff of life that was part of them.
VITAMIN B12
Wine entered the picture unexpectedly when I was invited to apply to be artist-in-residence for a large Napa Valley winery. For my interview I photographed my first wine; the winemaker told me that the photo looked like his wine tasted. WINE A
He saw the picture as expressing his taste experience of the wine. That was all I needed to launch myself into the unlikely avocation of capturing the inner wine.
Are these photographs of wine merely abstract beauty or can they tell us more? I sometimes calling the images wine Rorschach – what do you see in a photomicrograph of wine? How does the picture speak to you?
I invite —> Read More