Is The Moon Hollow? And What Creatures Are Living Inside?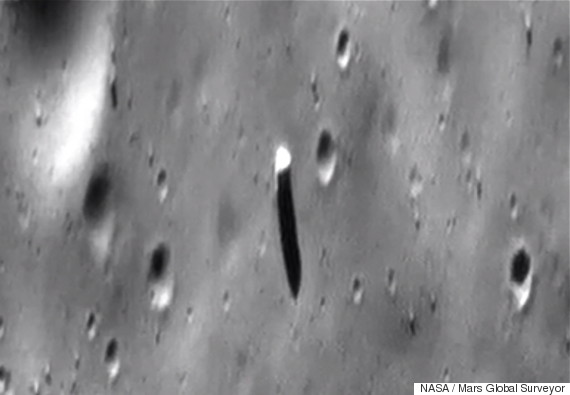 In 1998, images from the Mars Global Surveyor spacecraft revealed something startling from Phobos, the unusual large moon orbiting Mars.
It appeared to be a very tall, 400-foot-high rectangular-shaped object jutting straight up and casting a long shadow on the surface of Phobos, as seen in the picture below.
While most scientists feel this is just a natural rock outcropping of the moon, it still raises questions.
"Even if we see something that we can't explain, to conclusively say what it is, is a very different thing," says Florida Institute of Technology astrophysicist Hakeem Oluseyi.
"Suppose we find a perfectly shaped pyramid on another planet and we can't think of any way that could form by natural processes. That, to me, does not say that intelligence put it there. That says, to me, it's there and we have no idea how it got there. That's what we know," Oluseyi told The Huffington Post.
Oluseyi is featured on this week's return of Science Channel's "Are We Alone?" The series offers compelling stories about space and the growing belief among scientists that Earth is not the only planet that harbors life and, more importantly, intelligent life.
"In our —> Read More Here