James Evans on Drawing the (Scientific) Revolution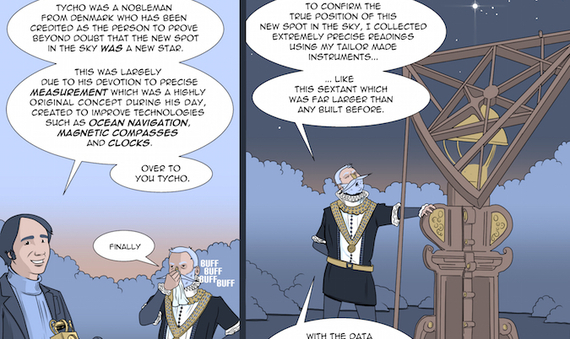 A background in earth science and micropalaeontology may not seem the most obvious starting point for a career in graphic design, but it set James Evans on that trajectory. Fascinated by his field of study, if a little underwhelmed by the line of work it led him into, the London-based artist started drawing comics in his spare time and it wasn't long before he was receiving commissions from friends and commercial clients. Earlier this year he took the leap and started working as a designer full time.
Continuing to make his own work as Stumpy Comics – including our recent antiheroes campaign – James recently published a series telling the story of key figures in the scientific revolution, titled On the Revolution.
What's Stumpy Comics about?
StumpyComics is the name of my comic website, named after one of my first characters – a down-and-out pigeon from London with a missing foot. I have solo as well a collaborative pieces on there, and I try not to limit myself to any one subject. Strips range from political (War of Similarity/Armsrace), sci-fi (Planet 5379), philosophical (I Did it God's Way) to scientific (On the Revolution). It's a fantastic way to express oneself artistically without being pigeonholed, and they can be made within an hour or over several months. It can be extremely challenging but is ultimately very rewarding.
You're working on a new anthology, On the Revolution. What's it about?
I left a science-based job to start working as a graphic designer full time. I was wary about giving up too much on my science background and wanted to keep the science side of my personality alive, so I decided to create a series on the history of the —> Read More