Jupiter's Great Red Spot Gets Its Color From Sunlight, Study Suggests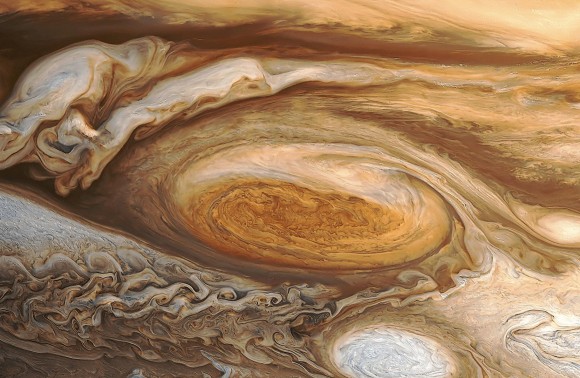 Reprocessed view by Bjorn Jonsson of the Great Red Spot taken by Voyager 1 in 1979 reveals an incredible wealth of detail.
If it weren't for the Sun, Jupiter's Great Red Spot would be a much blander feature on the gas giant, a new study reveals. This stands apart from what most scientists think about why for why the spot looks so colorful: that there are features in the clouds that give it its distinctive shade.
The new data comes from observations with the Cassini spacecraft, combined with experiments in the lab. They conclude that the Red Spot's immense height, combined with sunlight breaking apart the atmosphere there into certain chemicals, make the feature that red that is visible even in small telescopes.
(…)
Read the rest of Jupiter's Great Red Spot Gets Its Color From Sunlight, Study Suggests (240 words)
---
© Elizabeth Howell for Universe Today, 2014. |
Permalink |
No comment |

Post tags: Great Red Spot

Feed enhanced by Better Feed from Ozh