KA-BOOM! Scientists Solve Mystery Of Earth's Tectonic Plates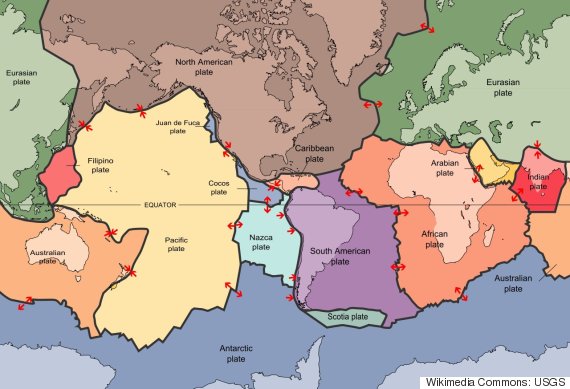 Scientists have long known that the Earth's crust consists of at least 15 tectonic plates–continent-sized slabs of rock on the surface of the Earth that shift about to create mountains, volcanoes, and earthquake zones. But the exact mechanism by which the plates move has remained a mystery.
Until now.
A new study suggests that the plates glide about on a six-mile-thick hidden channel of "soft" rock located between the base of the plates and the upper portion of the Earth's mantle (the layer of molten rock above the planet's core), Live Science reported.
"The idea that Earth's surface consists of a mosaic of moving plates is a well-established scientific paradigm, but it had never been clear about what actually moves the plates around," study co-author Dr. Tim Stern, a professor of geography, environment and earth sciences at Victoria University of Wellington in New Zealand, said in a written statement. "To work this out requires an understanding of what happens at the bottom of a tectonic plate."
(Story continues below image.)
This map shows 15 of the largest plates.
To glimpse the underbelly of a tectonic plate, the researchers used dynamite explosions to generate seismic waves across the southern —> Read More Here