Landscaper Survives Getting Weed-Whacked In Eye By Sharp Nail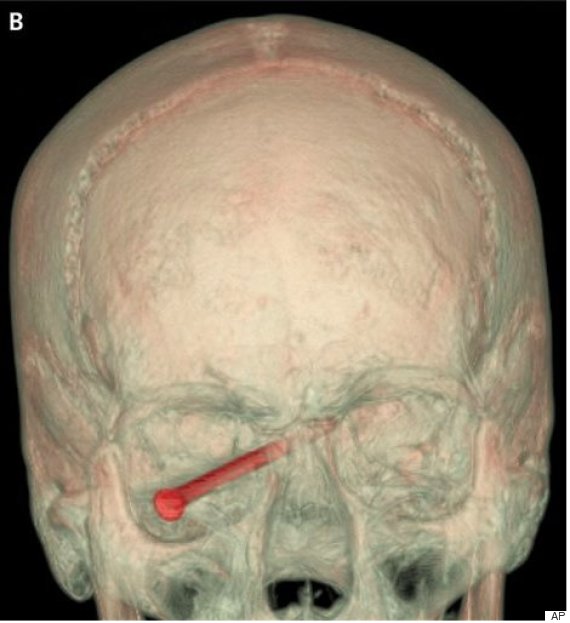 There must have been a four-leaf clover in those weeds. A 27-year-old landscaper escaped with barely a scratch after a nearly 3-inch nail hurtled into his eye when he accidentally hit it with a weed-whacker.
Doctors who removed the nail at Boston's Massachusetts General Hospital describe the case in Thursday's New England Journal of Medicine.
"When you looked at him, all you saw was the back end of the nail" in his right eye, said Dr. Wael Asaad, a neurosurgeon now at Rhode Island Hospital and Brown University.
It happened about two years ago, and the man wasn't identified.
Doctors couldn't tell how long the nail was or its path, so radiologist Dr. Rajiv Gupta used a new type of CT scanner to get detailed images.
"It reached almost to the tip of the other eye and the brain. It was a very long nail," he said.
The good news: It had not penetrated the globe of the eye, but was to one side.
The bad news: It was lodged against one of the main arteries supplying blood to the head, and another artery serving the other eye.
"The tip of the nail was like the finger in the dam. We were worried that if we pulled it out, there would be bleeding" — a jet of blood that could damage the other eye or the brain, or even prove fatal, Asaad said.
So they made an elaborate plan in case an artery ruptured and had to be repaired: One surgeon was ready to operate through the head. A second surgeon was ready to operate through the neck. As these two stood by, a third surgeon carefully pulled out the nail.
They waited several minutes. No major bleeding occurred. They stopped sedating him and the patient was allowed to wake. After a tetanus shot and a prescription for —> Read More