Largest Digital Camera Ever Constructed will be Pointed at the Skies in 2022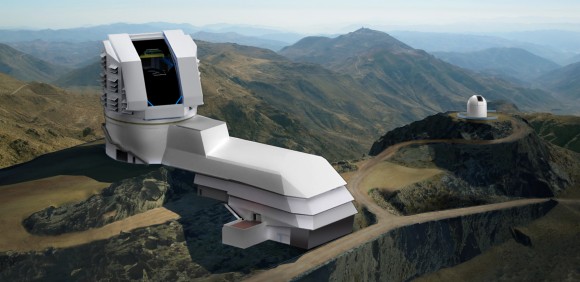 Artist rendering of the LSST observatory (foreground) atop Cerro Pachón in Chile. Credit: Large Synoptic Survey Telescope Project Office.
The world's largest-ever digital camera has received the green light to move forward with development. The 3,200-megapixel camera for the Large Synoptic Survey Telescope (LSST) will snap the widest, deepest and fastest views of the night sky ever observed, providing unprecedented details of the Universe. Astronomers say the LSST will help uncover some of the biggest mysteries in astronomy.
The SLAC National Accelerator Laboratory announced this week they have received key "Critical Decision 2" approval from the Department of Energy.
"This important decision endorses the camera fabrication budget that we proposed," said LSST Director Steven Kahn. "Together with the construction funding we received from the National Science Foundation in August, it is now clear that LSST will have the support it needs to be completed on schedule."
(…)
Read the rest of Largest Digital Camera Ever Constructed will be Pointed at the Skies in 2022 (460 words)
---
© nancy for Universe Today, 2015. |
Permalink |
No comment |

Post tags: Large Synoptic Survey Telescope, LSST

Feed enhanced by Better Feed from Ozh