Let's Help Write a New Mnemonic for the Solar System. My Very Excellent Mother…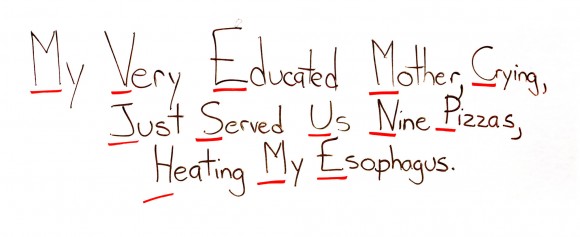 One idea for a new Solar System mnemonic. Via the New York Times.
The current most-used Solar System mnemonic for remembering the planets and their order from the Sun is "My Very Educated Mother Just Served Us Noodles." But, it's the "Year of the Dwarf Planet" and some folks are hoping all the dwarfs of our Solar System will get a little more respect and possibly be considered "real" planets.
A group of science writers from The New York Times are among those who are "rooting for the dwarf planets to be considered actual planets." But if that were to happen, one issue would be that we'd need a new memorization mnemonic (I know… this is a a horrible dilemma.)
It wouldn't be just adding P for Pluto (and reverting back to the old "My Very Excellent Mother Just Served Us Nine Pizzas) — you'd have to add a C in the middle for Ceres, along with E for Eris, H for Haumea and M for Makemake at the end.
So, Universe Today readers, let's help The New York Times find some new mnemonics.
(…)
Read the rest of Let's Help Write a New Mnemonic for the —> Read More Here