Life at Sea on a Coast Guard Icebreaker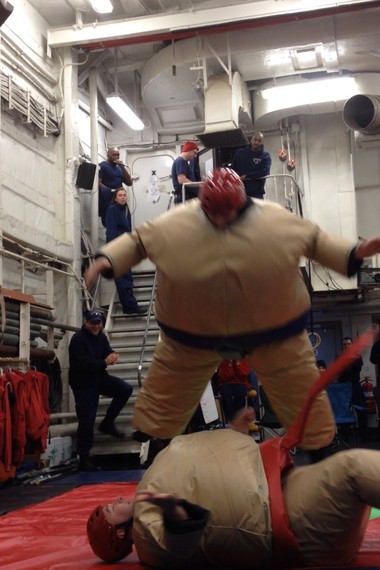 One, two, three, sumo! Every Saturday night onboard the USCGC Healy, scientists and crew members come together for morale boosting events such as sumo night, a talent show, and karaoke.
Today is day 51 at sea onboard the Healy, I can't remember the last time I blow dried my hair or put on make-up, I have mastered the quick water conserving "sea shower," and can rise to my top bunk in just two quick steps. Life at sea is a lot like middle school summer camp and it's not just the bunk beds and cafeteria style dining — it's living with a collection of characters, working together, and learning to rely on each other.
Onboard the Healy are 51 scientists ranging in age from mid-20s to mid-60s with experience levels from graduate students to senior scientists. There are 93 Coast Guard crew members ranking from entry level seamen as young as 18, to officers, commanders, and of course the captain. Coast Guard members are stationed on the Healy for up to three years and work on the ship year-round whether in port or at sea. Gender balance within the science party is fairly even with 43 percent female, but women make up only 25 percent of the Coast Guard crew.
This expedition is a once in a lifetime opportunity that took years to plan and millions of dollars to implement. To take full advantage of our precious time in the Arctic the schedule is tight — oftentimes we arrive at a new station just as work from the previous station is commencing. There is no such thing as an 8-5 workday on a research cruise, days often blur together and it becomes difficult to tell if the sleepy person munching on a bagel at dinner has been working for hours —> Read More