Life Inside a Hummingbird Nest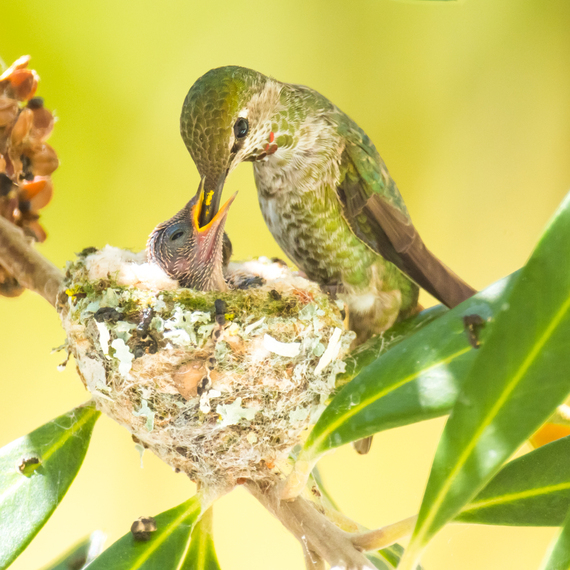 I have been obsessed with Hummingbirds for years and consider it a true privilege to have year-round resident Hummingbirds fluttering outside my home in California.
This past Spring I was pretty ecstatic to find that an Anna's Hummingbird had built a nest just a few feet from my balcony, giving me a wild and wonderful birds eye view into her private and beautiful world. I couldn't believe she picked THAT spot for her new spiderweb and foliage weaved crib, and I just knew I had to document some of the moments to come.
I had no idea it would turn into a 3-week daily video project that would go on to receive over 6 million views on Facebook and be shared in multiple science classrooms around the Country. I certainly couldn't have imagined just how attached I would become to these delicate beating hearts as they grew up before my very eyes. Sharing that experience with so many people on Facebook made it all the more special.

My first video for the project (below) shows the chicks, just 2 and 3 days old, being fed by their mother, fondly known as Annabel. What a beautifully intimate moment to witness.
The Hummingbird Project: Anna's Hummingbird feeding her chicks. Follow AlexisCoram for more Hummingbird goodness!! Just wanted to share this little bit of magic with you. Here is Annabel feeding her babies and then fiddling with some hair on her nest. (don't mind the squeaking in the background…that is just my dog reminding me that she's cute too :))It has been very hot here today (85 degrees), so much of the day Annabel has been shielding her chicks from the sun while still allowing air to reach them below her. She seems —> Read More