Man-Made Earthquakes On The Rise In Eastern and Central U.S., Report Finds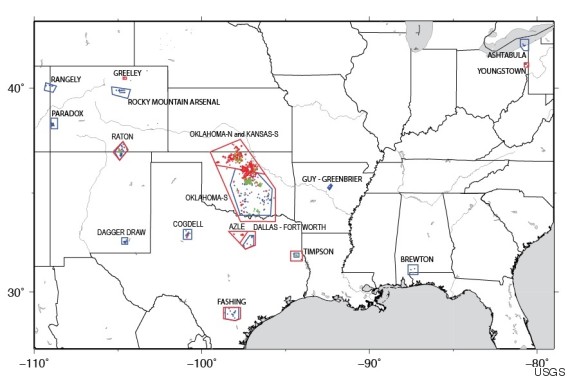 Man-made earthquakes associated with wastewater disposal wells from oil and gas extraction are on the rise in parts of the United States, according to a report the U.S. Geological Survey released Thursday.
The report, which the USGS says is the first to try to predict the likelihood of this type of earthquake, identifies 17 areas in eight eastern and central states that have seen a rise in man-made earthquakes since 2009. The report also incorporates the effects of human activity into earthquake hazard models used to assess risk for insurance and building regulation purposes.
"These earthquakes are occurring at a higher rate than ever before and pose a much greater risk to people living nearby," Mark Petersen, chief of the USGS National Seismic Hazard Modeling Project, said in a news release.
The report, which draws on the conclusions of a November 2014 workshop co-hosted by the USGS and the Oklahoma Geological Survey, only examined Alabama, Arkansas, Colorado, Kansas, New Mexico, Ohio, Oklahoma and Texas.
Seventeen areas in eight states have seen more man-made earthquakes since 2009.
The USGS said these frequent man-made earthquakes "greatly" increase the overall earthquake probability for Oklahoma and the other affected areas compared to the probability in the latest National Seismic Hazard Model, published in 2014. The national maps, which are updated every six years, detail the hazard levels for naturally caused earthquakes in the U.S.
Man-made earthquakes were intentionally left out of last year's model because of how difficult they are to predict, the new report explained. Typical national models forecast earthquake likelihood over a 50-year period, but Thursday's report introduces models that offer only a one-year time period for assessing risk. These short-term models, which the agency hopes to finalize later this year, should be useful because of uncertainties surrounding the wastewater injection wells —> Read More