Meet Jack Fishman, the Man Who Invented Naloxone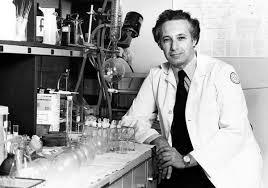 Photo courtesy of The Rockefeller University.
This December marks the one-year anniversary of the death of Jack Fishman, the man who invented naloxone. Fishman's family describes him as a brilliant yet humble man, but his life was also filled with many ironies. More than 40 years after inventing a medicine that would save hundreds of thousands of lives from opioid overdose, Fishman lost his own stepson to a heroin overdose. He also died not knowing the true impact of his invention or how many second chances it has afforded to those who struggle with addiction. Thankfully, his family has stepped up to right those wrongs.
Born in 1930 in Poland, Fishman fled before the Nazi invasion and eventually immigrated to the United States. During his early 30s he worked for a small private lab in New York City. It was here, while trying to come up with a way to treat constipation caused by chronic opioid use, that he invented naloxone, a medicine that temporarily blocks the effects of opioids in the body. In 1961 when Fishman and his business partner applied for a patent for naloxone, they had no idea how many lives their invention would save.
Though naloxone —> Read More Here