Meet Rudy, The Dog Who Is Being Raised With Science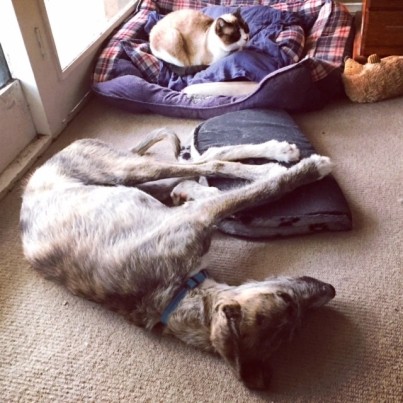 Rudy the staghound gets to enjoy a lot of the things that many pets do: trips to the beach, playtime at the dog park, napping on the couch.
But Rudy's adventures and home life are examined a lot more closely than those of an ordinary pet, because he's being raised with science.
That's how Australian canine researcher Mia Cobb puts it on a blog, charmingly called "Do You Believe In Dog?", that she co-writes with fellow canine scientist Julie Hecht.
"It means we're putting all that we know about what dogs need to live a healthy, happy and engaging life into practice," Cobb explains. "From using learning theory in how we train him, to what we know about how to familiarize young dogs with loud noises, how to enjoy visiting new places, what rewards are most effective to get the behavior we want, how to be comfortable being alone if we're not home, socializing him with other dogs, how to interact safely with adults and children — there's been scientific research in all these areas and many more.
"We're trying to put all that knowledge into setting Rudy up to have an awesome life."
Raising a dog —> Read More Here