Meet the Chinese Lumberjack Who Slept With an Alien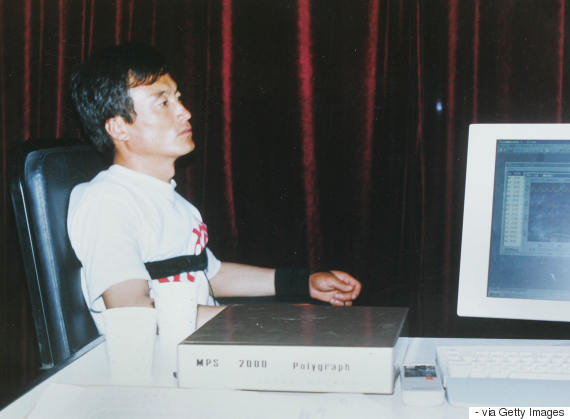 "If you can't find me," Meng Zhaoguo said over a cell phone whose signal faded from its isolation, "Just head to the last house on the logging commune lane. Or ask anyone who's around." Everyone knows the first Chinese person to allegedly be abducted by aliens.
With its surging economy, China is summiting once-unseen heights in world rankings: millions of English speakers, almost the most millionaires and actually the least frugal tourists. Yet despite being slightly larger in area than the United States with four times as many people, China trails far behind when it comes to visitors from outer space. To date, only one Chinese person — lumberjack Meng Zhaoguo — claims to have slept with one.
Meng Zhaoguo, a rural worker from northeast China's Wuchang city, taking a lie detector test in Beijing.
I first visited Meng at his home on the Red Flag Logging Commune, set among the remains of a forest in China's far northeast, an area historically known as Manchuria. Chinese characterize Northeasterners as big-hearted, industrious and sometimes a bit touched in the head. So it was not a shock when the nation's first person claiming interstellar relations came from here. In 2003, I traveled over a winding, ice-covered, one-lane road through the forest to meet him.
On the commune, Meng lived in a two-room timber frame house he had built with his own hands. Bare yellow light bulbs dropped from the ceiling, and there was no phone — or cell reception. But a big-screen Sony television filled one end of the room.
"Out here, it only picks up two channels," he said. "So it's a waste of money, but I didn't buy it. A businessman brought it, after he heard about my story." Another —> Read More