Meet The 'Flow Hive,' A Sweet Invention That Serves Honey On Tap
Honey is sweet, bee stings are not. An Australian beekeeper and his son are working to improve the complicated and sometimes dangerous task of extracting honey from hives. For the past 10 years they've been developing Flow Hive, a product that dispenses honey directly from a tap — the same way in which syrup is extracted from maple trees.
To work Flow, "Turn the tap and watch as pure, fresh, clean honey flows right out of the hive and into your jar. No mess, no fuss, no expensive processing equipment without disturbing the bees," as instructed on the product's IndieGogo fundraising page. This campaign started on February 22 with a goal of raising $70,000. As of February 23, with 41 more days remaining to fundraise, the project has earned $2,018,445. Clearly, honey enthusiasts are pumped.
Stuart Anderson, the younger of the two inventors, said that Flow Hive is the result of a "decade-long task of inventing the beekeepers dream."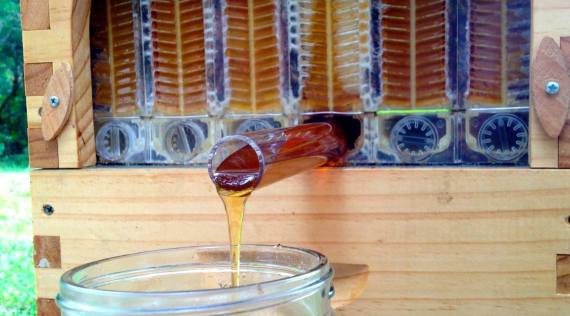 Flow Hive/Facebook
The father-son duo claims that this system is easier on both the bees and the —> Read More Here