Methane Spike On Mars Provides New Clue In Search For Alien Life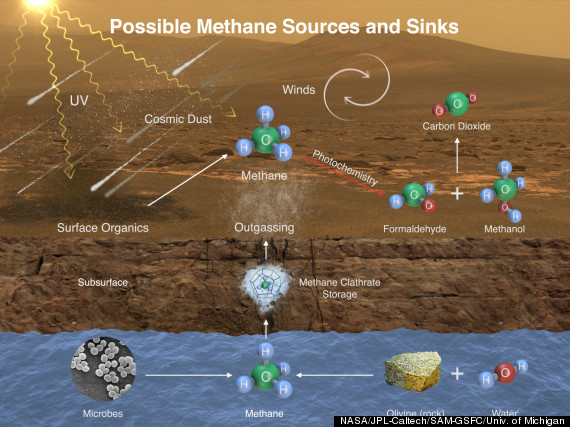 NASA's Curiosity rover has detected a strange burst of methane gas in the atmosphere on Mars, along with other organic chemicals in rocks on the planet's surface. The findings are raising new questions about the planet's habitability–today as well as in the past.
"That we detect methane in the atmosphere on Mars is not an argument that we have found evidence of life on Mars, but it is one of the few hypotheses that we can propose that we must consider as we go forward in the future," Dr. John Grotzinger, Curiosity project scientist at the California Institute of Technology in Pasadena, said on Dec. 16 in a news briefing at the American Geophysical Union's convention in San Francisco.
Using its onboard Sample Analysis at Mars (SAM) laboratory, the rover "sniffed" more than a dozen samples of the Martian atmosphere over a 20-month period. Grotzinger and his team found that methane levels shot up tenfold to an average of seven parts per billion over two months in late 2013 and early 2014, according to NASA.
The researchers aren't sure what caused the burst, but they've offered two potential explanations: an —> Read More Here