More And More People Believe Stress And Burnout Will Kill Us. Here's How to Avoid It.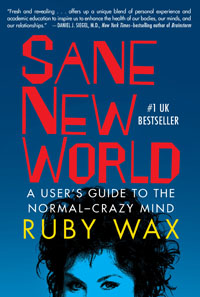 For as long as Ruby Wax has struggled with depression, she has spent an equal amount of time fascinated by how the brain works. She has enjoyed a prosperous career as a comedian and entertainer in the United Kingdom — recognized for her BBC television show spanning 25 years and script work on "Absolutely Fabulous" — but recently, she has refocused her attention on her "crazy mind," the part of her that has led to both incredible stress and success over the years.
Receiving the opportunity to study mindfulness-based cognitive therapy from Oxford University, she used her master's dissertation in 2013 to create her latest book, Sane New World, which debuted in the United States last week. Combining neuroscience, comedy and personal anecdotes about her own experience with depression, Wax explores how the brain works and how mindfulness techniques can help us physiologically rewire our debilitating ways of thinking.
"I have an intrinsic interest in how the mind works," Wax told The Huffington Post. "When I was 19, I went to [the University of California] Berkeley, but the only way to study a brain was when it was a corpse, so I had to —> Read More Here