Mysterious Metal Balls Found On Ocean Floor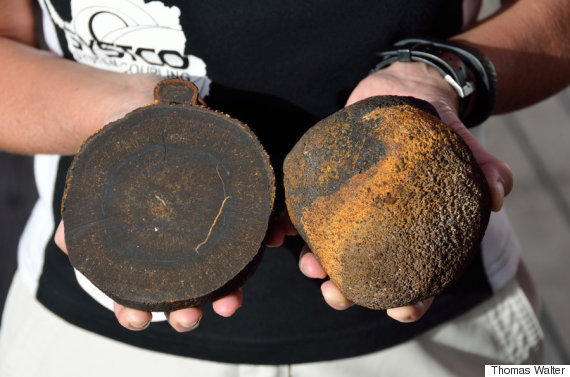 What are those things?
Scientists dredging the seafloor in the Atlantic Ocean several hundred miles east of Barbados in January were surprised when their sled got snagged — and, after freeing it from the seafloor, even more surprised at what it brought up.
The sled's nets were filled with heavy metal orbs ranging in size from golf balls to softballs. Images captured by the sled showed an entire field of what turned out to be manganese nodules — researchers say it's the largest such deposit ever found in the Atlantic.
(Story continues below image).
The manganese nodules, discovered in January during a recent scientific expedition in the Atlantic, are up to 10 million years old.
"Manganese nodules are found in all oceans," Dr. Colin Devey, a geologist at the GEOMAR Helmholtz Centre for Ocean Research in Kiel, Germany and the expedition's chief scientist, said in a written statement. "But the largest deposits are known to occur in the Pacific. Nodules of this size and density in the Atlantic are not known."
The nodules were found during a 42-day expedition through Jan. 26 aboard the German research vessel SONNE, which explored the ocean between South America —> Read More Here