NASA's First Orion Back on Land after Flawless Ocean Recovery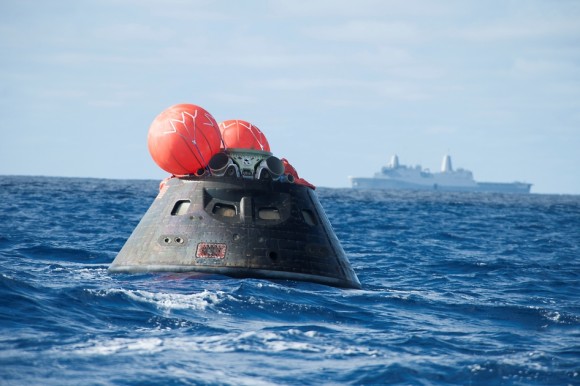 Orion crew module after splash down in the Pacific Ocean with the Crew Module Uprighting System bags deployed and the USS Anchorage in the background that concludes its first test flight on the EFT-1 mission on Dec. 5, 2014. Credit: U.S. Navy
KENNEDY SPACE CENTER, FL – Following a picture perfect launch on Dec. 5, 2014, flawless test flight and safe splashdown in the Pacific Ocean, NASA first Orion spacecraft has been recovered from the ocean and brought back onshore in California.
Near the conclusion of its two orbit, 4.5 hour flight maiden test flight on the Exploration Flight Test-1 (EFT-1) mission, the capsule fired its thrusters and began the rapid fire 10 minute plummet back to Earth.
During the high speed re-entry through the atmosphere, Orion reached speeds approaching 20,000 mph (32,000 kph), or approximating 85% of the reentry velocity for astronauts returning from voyages to the Red Planet.
The capsule endured scorching temperatures near 4,000 degrees Fahrenheit in a critical and successful test of the 16.5-foot-wide heat shield and thermal protection tiles.
The entire system of reentry hardware, commands and parachutes performed flawlessly.
The Orion spacecraft is guided into the well deck of the USS Anchorage during recovery operations following splashdown. —> Read More Here