New App Lets You Watch Old Faithful Erupt, Wherever You Are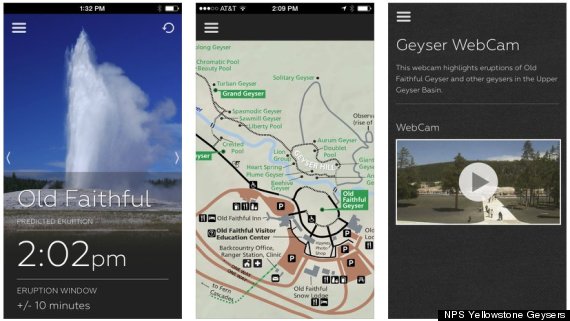 Clocks in Yellowstone National Park might be set to Mountain Standard Time, but everyone there knows "Old Faithful Time" is the only time that matters.
"People at the park don't look at their watches, they look at the boards to see how long it is before Old Faithful will erupt again," Brett Oppegaard, an assistant professor at the University of Hawaii's School of Communications, told The Huffington Post.
There's now a free mobile app to make that information even more accessible.
Working with the National Park Service, Oppegaard's team built NPS Yellowstone Geysers, an official and sanctioned National Park Service app. The app, which is available on Android or Apple devices, displays approximate times when Old Faithful, Grand, Castle and three other geysers in the park will erupt.
It also displays a map of the geysers, a live stream of Old Faithful, and various National Parks Service social media feeds to relay the latest updates and information about Yellowstone.
A screenshot of the NPS Yellowstone Geysers app for iPhone.
As Yellowstone's most famous geyser, Old Faithful spews an estimated 3,700 gallons of water roughly 17 times a day. Typical eruptions last one and a half —> Read More Here