New Simulation Models Galaxies Like Never Before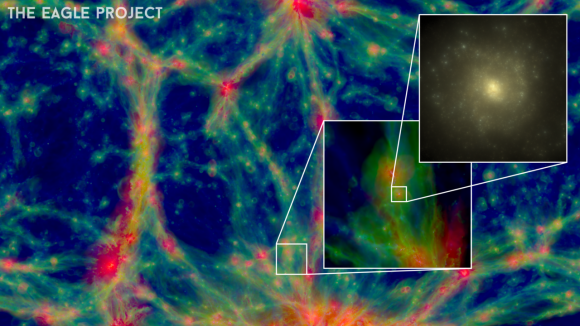 Zooming into an EAGLE galaxy. Credit: EAGLE Project Consortium/Schaye et al.
Astronomy is, by definition, intangible. Traditional laboratory-style experiments that utilize variables and control groups are of little use to the scientists who spend their careers analyzing the intricacies our Universe. Instead, astronomers rely on simulations – robust, mathematically-driven facsimiles of the cosmos – to investigate the long-term evolution of objects like stars, black holes, and galaxies. Now, a team of European researchers has broken new ground with their development of the EAGLE project: a simulation that, due to its high level of agreement between theory and observation, can be used to probe the earliest epochs of galaxy formation, over 13 billion years ago.
(…)
Read the rest of New Simulation Models Galaxies Like Never Before (298 words)
---
© Vanessa Janek for Universe Today, 2015. |
Permalink |
No comment |

Post tags: active galactic nuclei, AGN, Cosmology, Eagle, evolution, Galactic wind, galaxies, simulation

Feed enhanced by Better Feed from Ozh