Newly Discovered Exoplanet With Extreme Seasons Called A 'Real Maverick'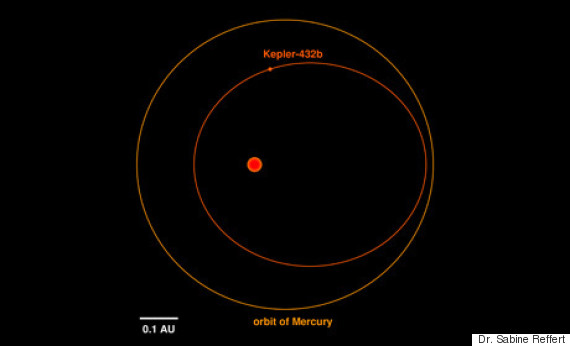 Two groups of astronomers working independently in Germany have discovered a massive new exoplanet that's quite strange–for a few reasons.
The newfound exoplanet, dubbed Kepler-432b, was monitored by NASA's Kepler space telescope from 2009 to 2013 and identified as a planetary candidate in 2011. Using the 2.2-meter telescope at Calar Alto Observatory in Andalucía, Spain and the Nordic Optical Telescope on La Palma in the Canary Islands, the researchers are now confirming that, indeed, it's a planet.
(Story continues below image.)
lllustration of the orbit of Kepler-432b (inner, red) in comparison to the orbit of Mercury around the Sun (outer, orange). The red dot in the middle indicates the position of the star around which the planet is orbiting. The size of the star is shown to scale, while the size of the planet has been magnified ten times for illustration.
Analyzing the data from both telescopes, the researchers discovered Kepler-432b is incredibly dense; though it's around the same size as Jupiter, its mass is six times that of the gas giant. Its orbit around its host star, a red giant with a radius that's four times that of our Sun, is also unusual.
"The majority of known —> Read More Here