No Longer Rocket Science: Helping Consumers Understand Genetic Info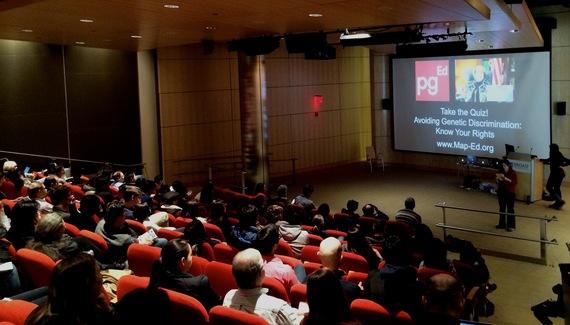 At the first Map-Ed competition. Photo via pgEd.org
A decade ago, biologist Ting Wu saw a need to promote education and interest in genetics among consumers, as well as to help scientists understand how the public views their research. Today, the initiative that resulted helps teachers and students, scientists, Congress, and even Hollywood writers and producers understand and spread the message that genetics is important and accessible. Recently, the Personal Genetics Education Project–known as pgEd–expanded its reach through an effort called Map-Ed that lets people take short genetics quizzes and locate themselves on a world map. Techonomy talked to Wu, pgEd director and a Harvard professor, about the public's growing interest in genetics, challenges that arise when people are reluctant to let their information be used in research, and one unusual road trip she took with her husband George Church at the start of the Personal Genome Project.
When you started pgEd nearly a decade ago, genome sequencing wasn't well known by consumers and demand for such data was low. What did you see back then that prompted this project?
Way back, in the 1980s at least, [George and I] talked a lot about the impact of broadly available genetic information in the general public and all the social, legal, ethical issues that would come with it. How would people respond? How would they view this new information in terms of their health?
When people started to volunteer for the Personal Genome Project, many were not scientists. They were members of the general public, and I thought we should talk to them. So George and I decided to make our family summer trip [a drive around the country] to go visit the volunteers. That was the beginning of the idea that we need —> Read More