Nuclear Weapons Are Much More Dangerous Than Global Warming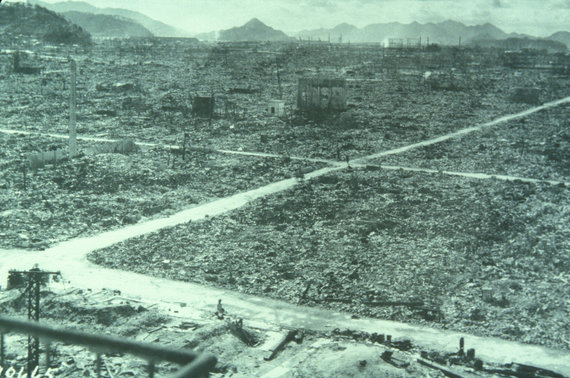 Skeptical Science is a great website that debunks global warming deniers. But their home page has a box counting up the amount of energy trapped by greenhouse gases in units of Hiroshima atomic bomb energy. While strictly correct, in the sense that the amount of energy released by the horrendous, genocidal attack on Hiroshima, Japan, on August 6, 1945, the equivalent of the explosion of 15,000 tons of TNT, is the same as that accumulated at Earth's surface every fourth of a second by anthropogenic greenhouse gases, I find that this trivializes the horror of nuclear war.
I am not writing this to criticize global warming theory. I have been doing
Hiroshima after the nuclear attack. The buildings burned, producing smoke. Multiple attacks, with much larger current bombs, could produce devastating global cooling.
Nuclear bombs do more than release thermal energy, and their potential impact on climate far outweighs anything else humans could do to our climate. The blast, fires, and radioactivity would kill millions of people if dropped on modern cities. The direct casualties from just three weapons of the size used on Hiroshima, exploding on U.S. cities would cause —> Read More Here