Oldest Planetary System Discovered, Improving the Chances for Intelligent Life Everywhere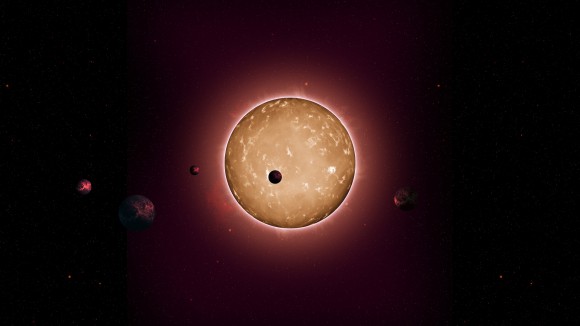 An artist rendition of Kepler-444 planetary system, which hosts five planets, all smaller than Earth. Credit: Tiago Campante, University of Birmingham, UK.
Using data from the Kepler space telescope, an international group of astronomers has discovered the oldest known planetary system in the galaxy – an 11 billion-year-old system of five rocky planets that are all smaller than Earth. The team says this discovery suggests that Earth-size planets have formed throughout most of the Universe's 13.8-billion-year history, increasing the possibility for the existence of ancient life – and potentially advanced intelligent life — in our galaxy.
"The fact that rocky planets were already forming in the galaxy 11 billion years ago suggests that habitable Earth-like planets have probably been around for a very long time, much longer than the age of our Solar System," said Dr. Travis Metcalfe, Senior Research Scientist Space Science Institute, who was part of the team that used the unique method of asteroseismology to determine the age of the star.
(…)
Read the rest of Oldest Planetary System Discovered, Improving the Chances for Intelligent Life Everywhere (805 words)
---
© nancy for Universe Today, 2015. |
Permalink |
No comment |

Post tags: exoplanets, Extrasolar —> Read More Here