One Week in Dutch Harbor Alaska, Preparing for 67 Days at Sea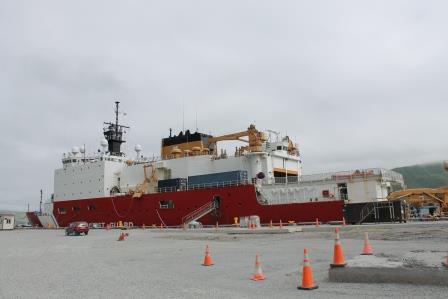 U.S. Coast Guard's Healy Icebreaker in port at Dutch Harbor, Alaska in preparation for the upcoming Arctic GEOTRACES expedition.
I arrived in Dutch Harbor on Tuesday in a 30 passenger propeller plane. Scientists from all over the United States have been trickling in this week to prepare the Healy for our upcoming Arctic GEOTRACES expedition. Dutch Harbor is located on Amaknak Island, part of the Aleutian chain stretching southwest from Alaska. The trip from Anchorage to Dutch Harbor takes 3 hours with a mid-way refueling stop on King Salmon Island. The pilot had little faith that the fog would lift for our landing, but we got lucky. The previous day strong cross winds forced a plane with a group of scientist to turn back to Anchorage, 6 hours in the air just to land in the same spot. Every carry-on bag, checked luggage, and passenger has to be weighed and when the plane is too heavy, checked bags are left behind. The whole science party has safely arrived in Dutch Harbor but some bags and packages and still coming in.
There is little cell service or internet on the island, a perfect transition to life at sea. We are staying at the Grand Aleutian hotel with a mixture of fishermen and Shell employees. After landing on the island I rented a car to drive around and explore, 20 minutes later I was back in the same spot. Amaknak Island is small, but beautiful and alive with wildlife. There are big rolling hills covered with greenery and wild berries, bald eagles flying overhead, dozens of spouting whales swimming in the bay.
It's been a busy week in port getting shipboard laboratories and sampling equipment ready for our first stations. This involves mixing chemicals to make reagents, moving —> Read More