Parents Combat Gender Stereotypes With Futuristic Kids' Clothing Line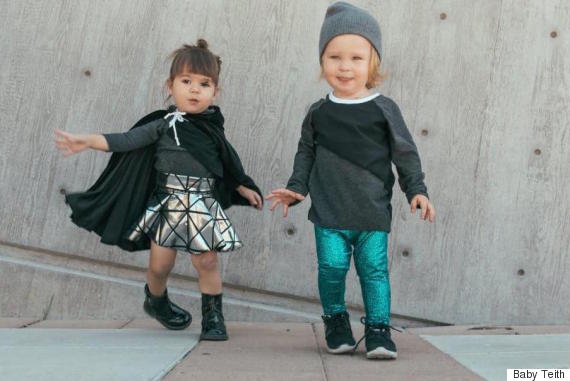 Designer Tiffe Fermaint and her fiancé Keith Walker hope that their kids' clothing line will provide a cool alternative to the countless children's brands that promote harmful gender stereotypes.
Inspired by the birth of their daughter Violet, Fermaint and Walker launched Baby Teith in 2013. Fermaint told The Huffington Post that she searched in vain for clothing that was gender neutral and eco-friendly, made from organic cotton. "I was tired of seeing nothing but pink body suits with the word 'princess' blinged out in rhinestones in the girls' department," she said, adding, "There's nothing wrong with that, it's just not my style."
Seeking options for her daughter, the mom used her experience in fashion as a designer and visual stylist to create her own clothing line. Baby Teith was a hit with Fermaint's friends, and after many requests, she opened an Etsy shop to sell her designs to other parents. The designer and her fiancé eventually both quit their jobs to focus on Baby Teith full time.
The mom describes her children's clothes as "fun, comfortable and memorable" and says she hopes her vivid, futuristic prints inspire their little wearers' imaginations. From moon and nebula images to a design inspired by VHS tape glitches, each print is truly unique.
"Our newest collection for fall available through our Kickstarter Project is called Medieval Time Traveler," Fermaints said. "It is inspired by the courage of Joan of Arc is meant to empower children."
Last month, Fermaint and Walker launched a Kickstarter campaign to help fund the brand's production through an ethical manufacturer and bring Baby Teith to a major trade show.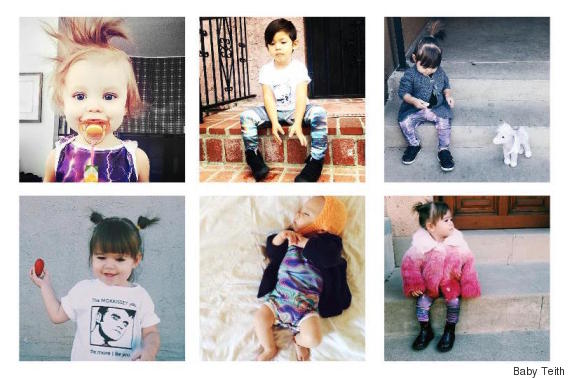 The couple hopes the message behind their designs reaches the mainstream kids' clothing world. "We genuinely believe that in this day —> Read More