'PBS NewsHour' Leads The Way In Climate Coverage Among Nightly News Programs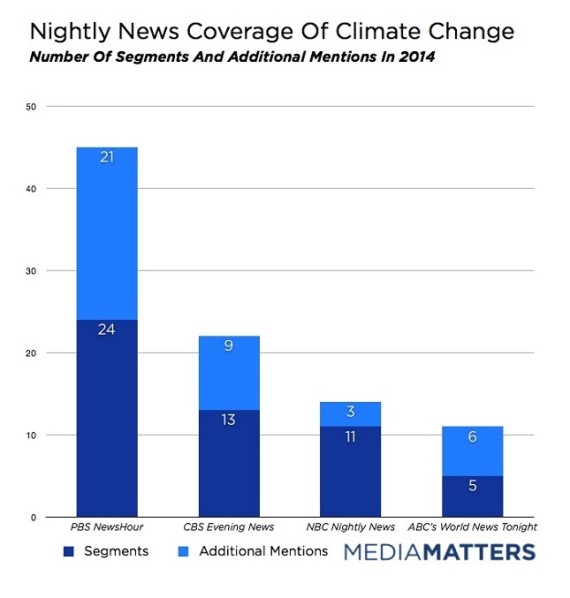 "PBS NewsHour" led the way in coverage of climate change among U.S. nightly news programs in 2014 for the third year in a row, according to a new analysis.
Progressive watchdog group Media Matters found that "NewsHour" covered climate change 45 times last year, up from 35 in 2013. "CBS Evening News" aired only 22 reports on climate in 2014, while "NBC Nightly News" and ABC's "World News Tonight" aired 14 and 11 climate-related stories, respectively.
"The networks' nightly news programs — and ABC's 'World News Tonight' in particular — would do well to follow 'PBS NewsHour's' lead by improving the quality and quantity of their climate change coverage," the group wrote.
Friday's new report praised "NewsHour" for the quality of its climate coverage. The program interviewed or quoted 27 scientists in its climate-related reports last year, more than the other three nightly programs combined. CBS interviewed or quoted 11 scientists, NBC featured seven and ABC interviewed or quoted two in 2014.
Media Matters noted that PBS also avoided interviewing any climate-change deniers or presenting a false balance around the scientific issue. ABC's "World News Tonight" and "NBC Nightly News" both aired segments that —> Read More Here