RIP Toystory, The Bull Who Was Daddy To 500,000 Offspring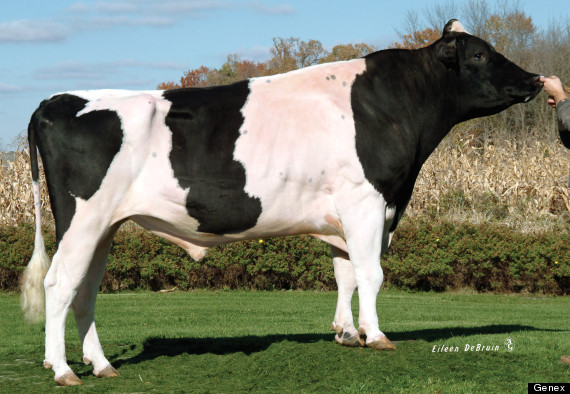 Who's the biggest daddy of them all?
Ismail Ibn Sharif, who took the throne as the king of Morocco in 1672, is said to have fathered more than 1,000 children, making him one of the most sexually prolific men of all time.
But Ibn Sharf pales in comparison to another famously fertile father.
His name was Toystory, and he wasn't a man but a 2,700-pound, record-breaking bull that is believed to have sired more than half a million offspring before his death late last year.
(Story continues below image).
The average dairy bull produces about 20,000 progeny in a lifetime, U.S. Department of Agriculture researcher Paul Vanraden told the Associated Press in 2006. Vanraden told HuffPost in an email this week that the number may now be even lower, as breeders today tend to use younger bulls for breeding purposes and replace them more frequently.
So how exactly did Toystory produce 500,000 offspring to become one of the most prolific bulls ever? It all boils down to a combination of today's globalized cattle breeding techniques and Toystory's own special physiology.
Toystory, who was named after the animated film, possessed an "unmatched" ability to produce semen, the —> Read More Here