Science and Hollywood: When the Martian Met the Earthlings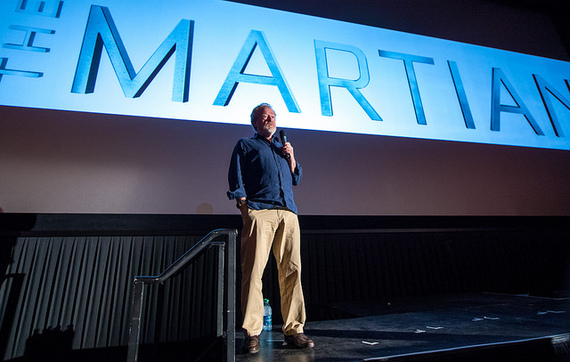 Andy Weir's gripping tale of a NASA astronaut stranded on Mars (entitled, simply enough, The Martian), is coming to Hollywood on October 2, and it is going to be another Ridley Scott blockbuster. I listened to the unabridged audio edition of the book, brilliantly narrated by R. C. Bray, who supremely navigates through multiple voices and actually sounds a bit like Matt Damon, who plays the novel's hero Mark Watney in the film. It well deserves its rating of 4.7/5 on an almost unbelievable 45,790 ratings on Audible.com. Add to that the 4.6/5 rating from 14,536 customer reviews on Amazon and you have a genuine cultural book event. A lot of people have read this book. And if the NASA scientists at the August 18 press conference at the La Canada theaters and JPL are right, this could translate to a new generation of scientists from the ranks of young people sure to flock to this action-adventure science fiction film.
Just like "Scotty" on Star Trek inspired a generation of kids to go into STEM careers (Science, Technology, Engineering, and Math), Damon's Watney is sure to do the same as he cuts a heroic action figure loaded with math and engineering skills enough to, as he says, "science the shit" out of the problem he finds himself in.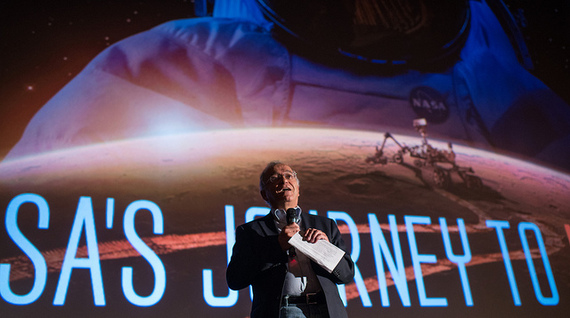 The Science-and-Hollywood connection was evident at the press conference, starting with comments from the Director of the Jet Propulsion Laboratory (JPL), Charles Elachi, who emphasized the important role science fiction plays in envisioning the future and inspiring people to become a part of it by helping make it. He recalled the day he received a phone call from the film director Ridley Scott, inquiring if JPL might advise the production in order to —> Read More