'Sea Secrets' Explored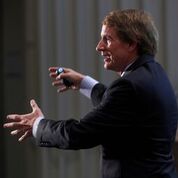 With a discussion of El-Nino, climate change, Nor'easters and hurricanes, the Rosenstiel School of Marine and Atmospheric Science at the University of Miami launched its 2016 lecture series "Sea Secrets."
The timing couldn't have been more striking … within 48 hours, Jonas, the "snowzilla" of a storm, would slam the Atlantic Coast with record snow, paralyzing the nation's capital for days and damaging coastlines with high-tide waves. The deadly blizzard of 2016 would break records, strand motorists, put homes in peril and affect 50 million people.
"While so many of us are fascinated by the unpredictability of our atmosphere, by the mysteries of our seas and by the powerful interaction of the two, science gives us clues to their secrets but not always all the answers," explained Dean Roni Avissar, Ph.D., as he opened the series.
Building on Rosenstiel's global leadership in education and research, the "Sea Secrets" lecture series creates a unique opportunity to bridge the academic and the practical.
And it does so by raising questions that are often on our minds, by challenging preconceived notions and by exploring more than just the science.
The first of "Sea Secrets" featured Bryan Norcross, hurricane specialist at the Weather Channel and internationally-recognized expert on hurricanes and typhoons. Against a backdrop of scientific studies, historic data, predictions gone awry and actual hurricane experience, he honed in on the challenge of how best to create an awareness of the impending dangers of hurricanes, without creating panic.
Research is key, he believes. But predicting hurricane paths is an inexact science. Different models create a rather wide cone, each trying to track the hurricane's direction as it approaches landfall. While the cone serves as a broad prediction and the science behind hurricane forecasting is slowly getting more accurate, even —> Read More