Search For The Loch Ness Monster From Your Computer With Google Street View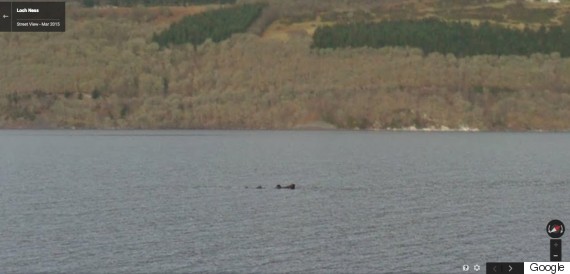 You don't have to rent a boat to hunt for the Loch Ness Monster any more. You don't even have to travel to Scotland.
Google mounted a Street View camera on a boat to give people a 360-degree view of the 23-mile-long loch in all its murky glory, and to allow armchair monster hunters around the world to join the search for Nessie.
You can start your search — or just check out Loch Ness and get a monsters-eye view of the famous ruins of Urquhart Castle — right here.
"Loch Ness is a lost world, but it's accessible through technology. And what should be here, of course, we all know the answer to that," Adrian Shine, leader of the Loch Ness & Morar Project, said in a video posted by Google. "It's the sort of place that if there weren't any dragons, there really ought to be."
Shine told the BBC in 2012 that he believes the monster may be "the occasional navigationally challenged Atlantic Sturgeon."
At times, the camera dives below the surface, but there's not a whole lot to see in the famously dark waters.
"We knew that at Loch Ness, because of the peat content of the water, which makes it more murky than normal, that it would be difficult to see," Deanna Yick, program manager for Google's Street View team, told The Atlantic. "That adds to the experience."
But already, some views taken by the Google cameras show something in the water. Probably not a monster… but something, as in this image posted by Google with the title "Bird, log or monster?"
In its description of the image, Google posted:
"Skeptics may feel that those who claim to have seen the Loch Ness monster are crazy, —> Read More