Severely Injured Toucan Who Was Attacked By Vandals To Receive 3-D Printed Prosthetic Beak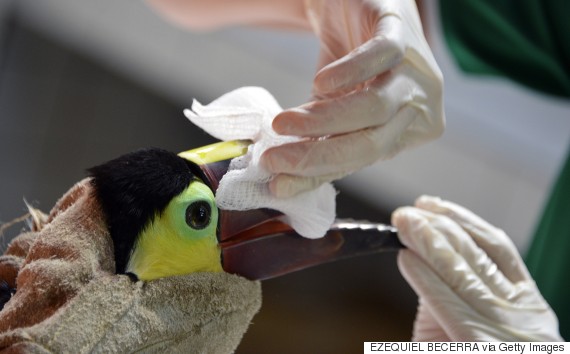 A bird in Costa Rica who endured a brutal attack is going to get a second chance thanks to some innovative technology.
A male toucan named Grecia lost the upper part of his beak after a group of vandals attacked the animal, according to Agence France-Presse. News of the bird's mistreatment spread across Costa Rica in January via social media, and four companies volunteered to help Grecia recover, BBC News reported. The groups plan to create a prosthetic beak using 3-D printing in an effort to help the toucan eat on his own — a function the animal currently has great difficulty with.
"The quantity he manages to eat on his own is very small, so we have to help him," veterinarian Carmen Soto, who is looking after the toucan at the Zoo Ave rescue center, told BBC News.
Those responsible for injuring Grecia broke his beak with a block of wood, The Costa Rica News reported. Work is currently underway to create a prosthetic appropriate for the bird's use, which will become the first of its kind in the region, BBC News reported.
"We couldn't use any type of —> Read More Here