Skywatchers Identify Aircraft as They Pass in Front of the Sun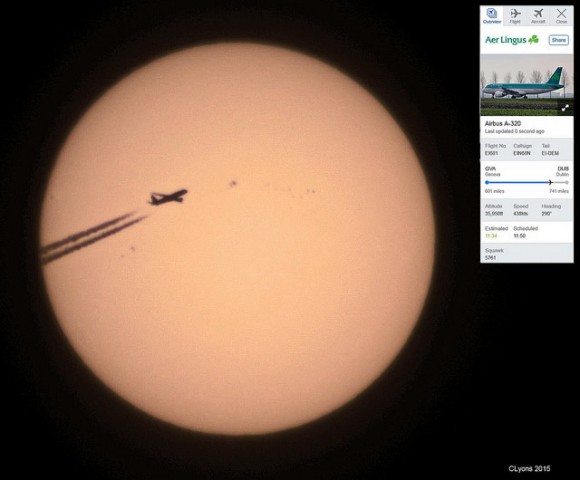 An Aer Lingus Airbus A320 passes in front of the Sun on Feb. 4, 2015. Credit and copyright: Chris Lyons.
It's all about timing and location.
You've probably seen images we've posted on Universe Today of planes crossing in front of the Sun or the Moon. But how do the photographers manager to capture these events? Hint: it's not random luck.
"I live under a main flight path out of Heathrow," said photographer Chris Lyons from the UK who took the image above earlier today, "and can easily spot the planes not long after they take off — if it is clear — from when they are about 100 miles away!"
(…)
Read the rest of Skywatchers Identify Aircraft as They Pass in Front of the Sun (348 words)
---
© nancy for Universe Today, 2015. |
Permalink |
No comment |

Post tags: airplanes, Astrophotos, Chris Lyons, Moon, Sebastien Lebrigand, sun

Feed enhanced by Better Feed from Ozh