Solar-Powered Plane Soars Over The Pacific Without A Drop Of Fuel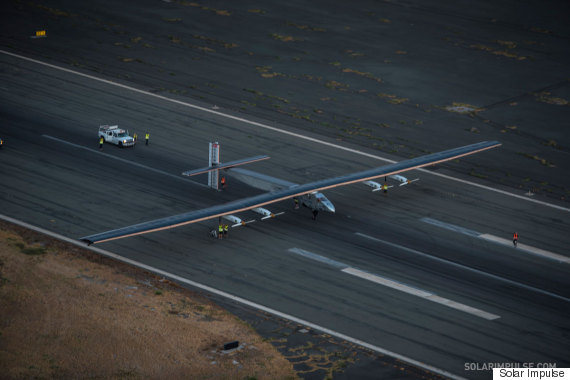 A solar-powered, single-pilot airplane just made aviation (and renewable energy) history, completing the 4,000-mile journey from Japan to Hawaii without stops or fossil fuel. The plane landed Friday morning at Kalaeloa Airport on the island of Oahu.
HE MADE IT! @andreborschberg just touched down in #Hawaii after a record-breaking flight! #futureisclean @b… https://t.co/WQWsRKiCEi

— SOLAR IMPULSE (@solarimpulse) July 3, 2015
The trip from Japan to Hawaii was the longest leg in the Solar Impulse 2's ongoing trip around the world. The plane took off from Japan on Sunday afternoon, after its team determined that the weather would permit a safe passage. The crew had made a previous attempt to fly to Hawaii in late May, but that effort was aborted mid-flight due to precarious weather.
The aircraft has a maximum speed of 90 mph and only averaged around 40 mph during the flight, which means the journey took a daunting 117 hours and 52 seconds — or nearly five days. The pilot for this leg of the flight, André Borschberg, got his sleep in 20-minute naps.
By comparison, a Boeing 777, with a top speed of around 600 mph, can make the same trip in about 8.5 hours.
The Solar Impulse 2 broke a number of records with its latest flight, including longest distance for solar-powered flight, longest duration for solar-powered flight, and longest non-stop solo-pilot flight of any kind (made possible because the plane doesn't need to stop for refueling).
"This oceanic flight to Hawaii demonstrates that if technological solutions exist to fly a plane day and night without fuel, then there is potential for these same efficient technologies to be used in our daily lives, and to achieve energy savings to —> Read More