Some Hawaii Residents Are Trying To Fight Lava With Garden Hose, 'Great Wall'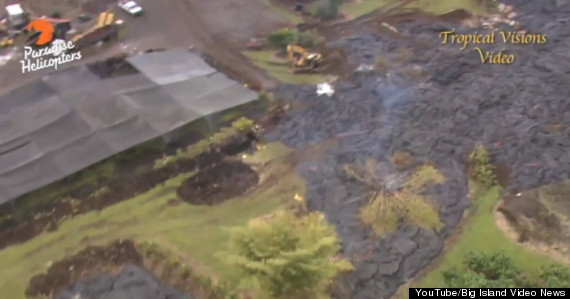 On Hawaii's Big Island, a 2,000-degree river of lava is slowly crawling through the Pahoa Village, threatening the homes of 800 or more residents.
While state and government officials have intentionally done nothing to stop, divert or obstruct the lava flow (citing the potential risks and cultural sensitivities), some homeowners are trying anything they can to save their homes from fiery destruction.
Last week, a video entitled "Garden Hose vs. Lava" surfaced on Facebook. The clip shows an unidentified person, armed with a garden hose, going toe-to-toe with the powerful force of nature by spraying it with water:
Another resident, Alfred Lee, whose home is only a few feet away from the front of the lava flow, built a 15-foot "great wall" to protect his home.
Both methods of defense were met with criticism from Big Island residents who believe that any attempt to alter the flow of the lava is disrespectful to Pele, the Hawaiian goddess of volcanoes. Others note that attempts to divert the flow may put other homes at risk.
Lee, however, has decided he'll do anything he —> Read More Here