Sony Hack A Reminder To Stop Saying Stupid Things In Email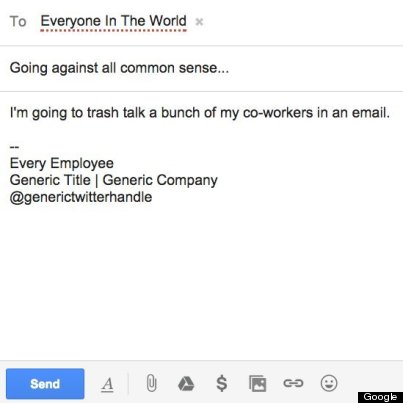 One of the most shocking revelations to come out of the Sony hack is that people are still saying stupid things in email.
For the zillionth time: You have to assume that everything you write in an email, instant message, or text — any written communication, really — will be read by your boss and your spouse and splashed on the front page of The New York Times.
Seriously. Assume that.
"You may think you're alone at your computer because there's nobody sitting there, but you might as well be announcing it in a big stadium," said Nancy Ancowitz, a business communication coach, author and adjunct professor at New York University.
Because it just keeps happening! The long list of embarrassing leaks from the maybe-North-Korean hack of Sony Pictures Entertainment involve many, many emails in which people say things for which they are apologizing now: Emails saying kinda racist things about President Barack Obama. Making Hitler jokes. Slamming Angelina Jolie, Adam Driver and Aaron Sorkin in one epic email chain. Trashing the studio's own films. And so on.
This has all of corporate America freaking out about emails now, —> Read More Here