SpaceX Continues to Expand Facilities, Workforce in Quest for Space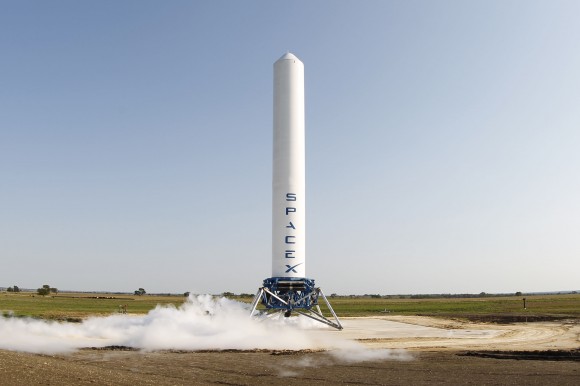 A SpaceX Falcon 9 Grasshopper reusable rocket launching from a concrete launchpad.
Credit: SpaceX
SpaceX was founded by Elon Musk in 2002 with a dream of making commercial space exploration a reality. Since that time, Musk has seen his company become a major player in the aerospace industry, landing contracts with various governments, NASA, and other private space companies to put satellites in orbit and ferry supplies to the International Space Station.
But 2014 was undoubtedly their most lucrative year to date. In September, the company (along with Boeing) signed a contract with a goal of ending the nation's sole reliance on Russia in 2017.">NASA for $6.8 billion to develop space vehicles that would bring astronauts to and from the ISS.
And this past week, the company announced a plan to expand operations at its Rocket Development and Test Facility in McGregor, Texas. This move, which is costing the company a cool $46 million, is expected to create 300 new full-time jobs in the community and expand testing and development even further.
(…)
Read the rest of SpaceX Continues to Expand Facilities, Workforce in Quest for Space (596 words)
---
© mwill for Universe Today, 2014. |
Permalink |
No comment |

Post tags: Elon —> Read More Here